"These relationships and strategic connections help me remain engaged in issues and initiatives that I care about the most- especially in Africa.  They help me to expand my network density of people that I can share resources with as I do my work.  Upon reflection, the best for security is to feel connected." (Thabani Nyoni, 1st year Grad student/Social Welfare, MCF Scholar Zimbabwe)
On May 1st, the African Alumni Project held the first "networking" event to connect Cal African alums with Cal African and non-African students interested to network, intern and work in Africa.  About 30 students and alums attended the event at Morgan Lounge, including undergraduate and graduate MasterCard Foundation Scholars from Zimbabwe, Zambia, Swaziland, Malawi, Mozambique, Nigeria and Kenya.   Students from Burkina Faso and Uganda attended from Berkeley Haas and the School of Public Health.   Students and alumni mingled and enjoyed African snacks before the program began.
In addition to generating publishable research results, a goal of the African Alumni Project is to connect current African students with their "predecessors" for advice, mentorship, summer internships and career positions.  To get the process going, the research team distributed a handout with the names, locations, occupations, and mentorship/internship opportunities with over forty Cal African alums.  The list will grow as the surveys are analyzed and more alumni are interviewed.
The African Alumni Project is researching the career and life trajectories of African Alumni of UC Berkeley and other partner universities.  Thus far, an on-line survey has generated over 100 responses, and 44 alums have been interviewed.
"I feel connected to the people who have come before me, I see a common vision, and feel I am not alone and have a community to help me reach my goal.  My internship with Daniel this summer (KEMRI, Western Kenya) is not only about our common academic field (public health) but even more about the relationship, the direction and guidance he will give me as someone who has been through Berkeley and succeeded."  (James Tayali, Sophomore/Public Health major, MCF Scholar, Malawi)
The program included "mock" interviews with with two Cal Alumni, Ni Sai Sai (Ghana, Haas MBA) who works with the educational non-profit, ASPIRE in Oakland, and Jeremias Zunguze (Mozambique, Spanish & Portuguese UG & Phd), lecturer at UC Berkeley and heading to North Carolina to assume an Assistant Professorship.  They shared the conditions and influences back home that resulted in choosing an international education, and how the Cal experience has impacted their career and life choices to date.  They also offered advice to the young scholars in the room on how to make the most of their time at Berkeley, and how to stay connected and "give back" to their home communities.
Students James Tayali  and Thabani Nyoni spoke about their upcoming internships with Cal Alums this summer.  James will be interning at KEMRI (Kenya Medical Research Institute) in Kisumu, coordinating a geo-referenced participatory mapping of slum neighborhoods to mitigate gender-based violence and reduce incidence of HIV-AIDs. Thabani will be interning with Sonke Gender Justice in Capetown, South Africa,  developing a monitoring and evaluation system for tracking the effectiveness of Sonke's community outreach programs.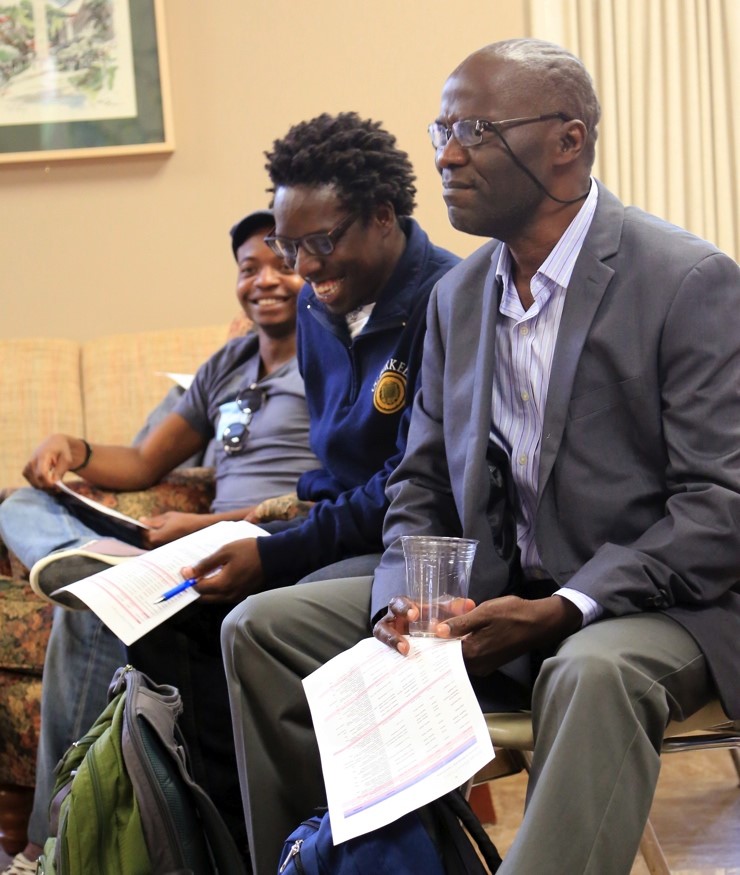 Two other Cal students, Itago Kangashi (sophomore, Kenya) and Avery Resor (MDP grad,  1st year) will be interning with Cal Alum and renowned African women's rights activist, Dr. Thelma Awori, in Kampala, Uganda, assisting with research and training at the Institute for Social Transformation.
From the discussions that followed and the high energy in the room, it was clear the event succeeded at unleashing the potential of Cal African alums to connect with Cal African (and non-African) students in meaningful ways that will transform and enrich both groups.